FREQUENTLY ASKED QUESTIONS
Disc Jockeys
How much do the DJs cost?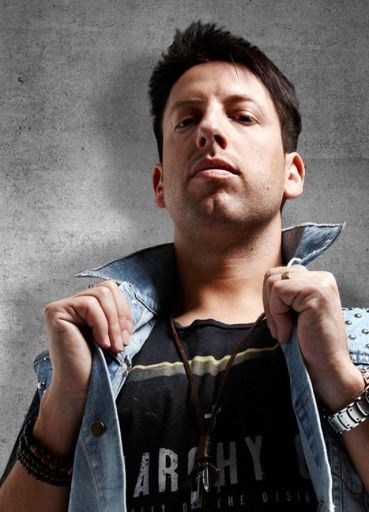 Corporate Disc Jockey $950.00 (5 HOURS MINIMUM)
Over 15 Years Playing Experience, OH&S Trained,
Charity Ball | Christmas Parties | Awards Parties | Product Launch Party
Staff Party | EOFY Parties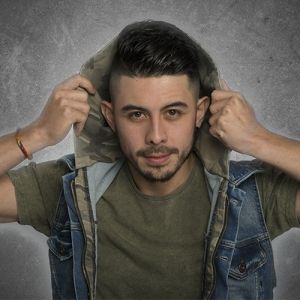 Private Event DJ - $400.00 (5 HOURS MINIMUM)
Over 10 Years Playing Experience, OH&S Trained,
Weddings | Birthdays | Engagement Parties | House Parties Parties
Underage Disc Jockey $250.00 (5 HOURS MINIMUM) *NON ALCOHOLIC EVENTS
Over 2 Years Playing Experience,
School Formals | Kids Parties | Teenage Events | Birthday parties
Are your DJs experienced?
Our DJs have played hundreds of parties and events: whatever the occasion, they've played at many similar functions. They know how to read the room, build up the vibe and get people dancing. They have entire libraries of songs in their minds to flip through at a moment's notice, ensuring you always have the perfect song playing at the perfect moment. They know what songs will be a hit with different demographics, whether it's the latest new releases or obscure golden oldies. They are able to build the perfect soundtrack for your event, taking into account the list of songs you gave them beforehand, requests made during the event, and the feel of things on the day. They know what songs combine well in playlists, what order of titles will keep the mood consistent, and how to mash tracks together so there's no awkward seconds of silence between them. How many times have you been at a party with everyone dancing, only for the song to end and every person to leave the dance floor? It's hard to get that momentum back once it's lost. DJs know how to make sure that doesn't happen.
Do your DJs MC?
Yes, our DJ's have the ability to provide basic master of ceremony services such as general announcements and introductions. If MC services are required correct pronunciation of names will be required.
Will the DJ visit the venue before the day of event?
The DJ does not visit the venue before the day of your event if it is at a residential address unless requested. Depending on the non-residential venue, the DJ may not need to view the venue and will instead arrive 1 hour prior to the event. The SIFA Events administration team will sort out venue details and orchestrate information to the DJ prior to the event.
Can the mobile DJs beat mix?
Yes, we train our DJs in the art of beat mixing so you'll hear a great mix of music. Please note that not all songs and genres can be mixed together so the DJ will mix where possible.
DJ Equipment
How much are the equipment packages ?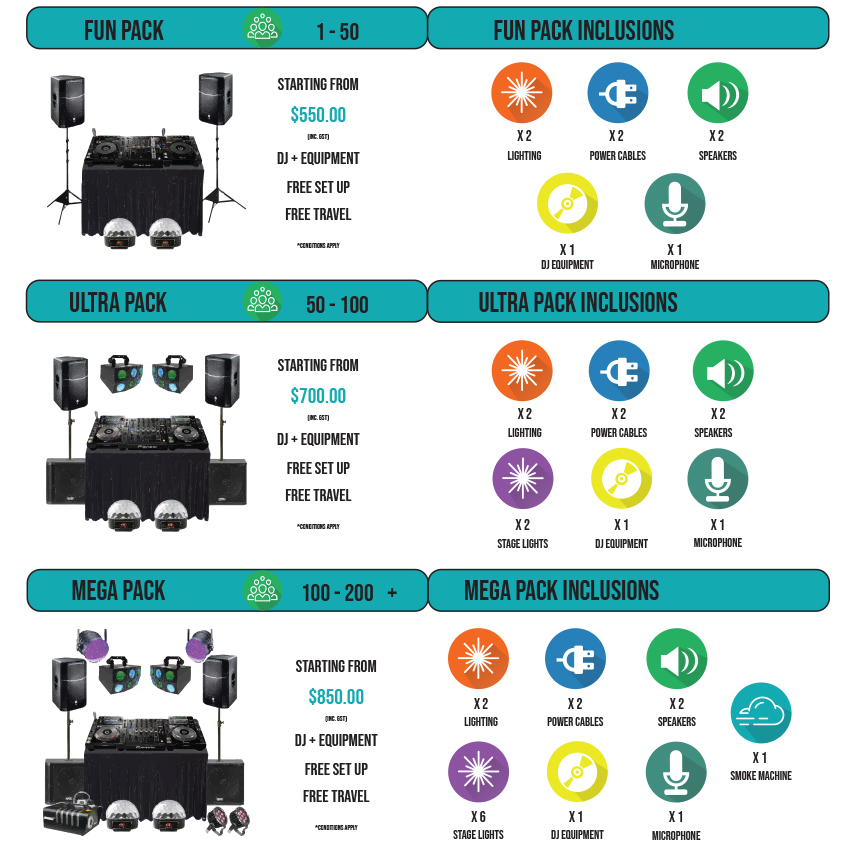 Do I need to provide a meal for the DJ?
If food is being served, we would appreciate a small meal for the DJ. The DJ will eat whilst performing and won't require a break.
Do you hire equipment without the DJ?
Unfortunately customers can only hire DJ's with the equipment.
What will the DJ wear?
Our DJ will be dressed accordingly to the dress code that you have selected when booking. You can have their dress code changed up to the day of your event.
What sort of equipment do you provide?
We provide different packages of equipment with additional add-ons. Please click on the following link for more information. Packages Info
Booking Management
What is the accepted payment method?
We require a 20% deposit of the overall DJ package cost upon checkout. We have Visa credit/debt, Mastercard credit/debit & American express. We have partnered with Pin Payments transaction gateway to make sure all transactions are secure through their payment gateway.

How do I Instantly Book?
Click on the "Browse DJS" and then select what type of event you are organising. This will provide you a list of DJs that specialise within your event. Once you have selected your preferred mobile DJ, click on "Instantly Book " or select one of the dates on the calendar in the DJ's profile. From there, follow the prompts to finalise your booking. Don't worry if something is missed or needs changing, we will follow up with a courtesy call within 24 hours to ensure we make your event memorable. [See video for Instantly Book instructions]
Can I select my own designated time?
Yes, you can select your own designated time. However, we cannot reduce the 5 hour time allocation. If you do require the mobile DJ for a shorter period you are welcomed to call us on 1300 007 432. A minimum 5-hour fee may still apply.
What if I require extra hours?
You are able to receive the DJ for extended hours. If you require additional time for your event, you are welcome to note this in your booking and reach us on 1300 007 432 to clarify your booking.
Does the 5 hours include set-up and pack-up?
No. Your DJ will arrive 45 mintues prior to the 5 hour start time to set-up. Your DJ will start playing music from the allocated start time. After 5 hours of music mixing, the DJ will then pack-up.
Will SIFA Events offer its services outside of Melbourne?
Yes. SIFA Events has DJs in multiple states across Australia and can fly out on demand. The main cities that you can find our DJs performing is in Melbourne, Sydney and Adelaide.
Can I change my DJ after I confirm my booking?
No, once the booking has been confirmed, the DJ is notified and they are booked.
Are there any cancellation fees for cancelling my booking?
Yes, a cancellation fee of 50% of the booking costs applies if the event is within 14 days. 75% of the booking costs if the event is 48 hours prior. The remaining balance is deposited 21 days from cancellation date.
General Questions
How do I pre-select the music for my party?
Upon request we will email you an easy to follow song list. Then all you need to do is highlight some favourite songs and we'll make sure they get played at your event. If you want to edit your song list, simply let us know and we will make the update.
Do I have to pre-select the music?
Nope! Feel free to leave the music selection up to our experienced DJs. All of our DJs know how to read a crowd and know what songs will get your guests up and dancing. We've found that there are some songs that just resonate with everyone and our DJs are happy to take request on performance and attempt to mix it into your event. Please note that not all songs and genres can be mixed together so the DJ will mix where possible.
What if there are songs I don't want to hear?
If there are particular songs that you don't want to hear please let us know prior to the event and we will ensure the DJ does not play those songs.